Hello Judges:
Hello, it's nice to connect with you!
check out the video below to hear about
"my why," our story, and what I'm passionate about:
Well hello there! It's nice to connect with you...here is a little bit about me...Above all else, I am a follower of Jesus. I wouldn't be anything without His extravagant love, and I hope you feel that love through meeting me and hearing my story. I am married to the love of my life, (and the hottest man I know), the man that makes me a better woman, Chris.
Together, we have our one year old son, Judah, who lights up a room when he walks into it, as well as a baby girl who was only meant for heaven. We also have a fur-child, our cat Jack, who acts like a dog and is a great cuddler. As a family, we live in Boise, Idaho, and we love to explore, adventure, play, and serve our community.
Chris is a firefighter and when I'm not chasing around our one-year old, I am a speaker, author and "multi-preneur" with a few online businesses where I am privileged to speak, write, coach and empower others to connect - soul to soul - and own their God given potential.
I inspire women to know that their beauty is not a mistake, but they were created for "just a time as this." I am also the new director of the nonprofit organization, Boise Lemonade Day, where I help Idaho kids learn the power of entrepreneurship, leadership and financial literacy through Lemonade Stands.
To put it simply, I speak, I write, I blog, I travel, I lead, I love, I serve, and I live ignited. I am an author, speaker, blogger, a professional plant killer, and a lover of all things adventure.
To me, as Mrs. Idaho, it's more than just a crown and sash. It's about how I can serve because of the crown and sash. They are something that can help get someone in the door, and I believe my message and the way I serve will be what keeps me in the door. My intention is not to just impress people, but to make an impact. Whether it is with an organization I serve with, a child I help with my non-profit, someone that steps into their God-given purpose through my coaching or books, I truly and wholeheartedly hope that my life makes an impact.
This song (on the right) is a mantra of mine...a song that my soul sings...I invite you to take a moment, to listen to the words, and hear the anthem that surrounds my every move, as a titleholder, as a mom, as a wife, and as a light-bearer...and hopefully, as Mrs. United States!
Keep shining!!
All my love, Charity <3
Meet the Majors:
In our family, we do "real." We say please and thank you. We believe in second chances and encourage each other to be our best, to love God and to love others. We love hard, we serve our community, and we try new things. We love adventure and you can typically find us traveling to some place where we can explore God's beautiful creation, try new foods, jump into cenotes, and explore above and below the ocean. We are building a "tiny house" cabin to put in the mountains at our favorite little mountain-lake town, in Idaho, where cuddling by the fire place, sweat pants and board games are all that's on the agenda. It's nice to meet you...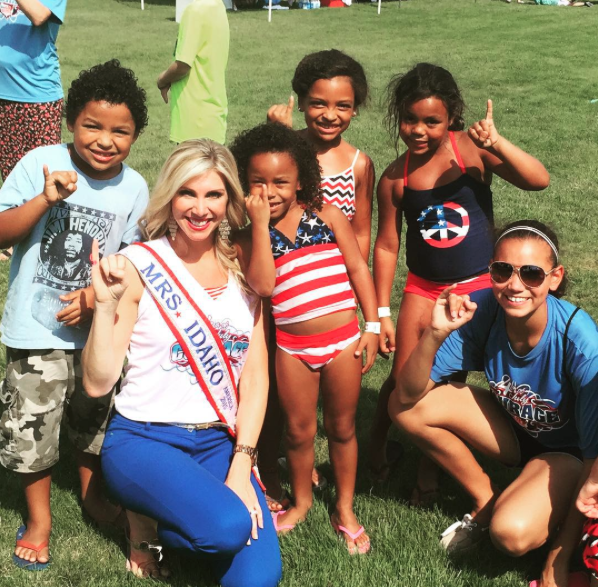 To serve is to live...
I believe we are most like God when we give. Give of our time, our talents, our resources and our passion. I come alive when I am serving others, whether it is singing campfire songs with a child who has cancer, or helping kids learn financial literacy and entrepreneurship, an audience or my online course students, and challenging them to be true to themselves, let go of the fake masks that guard our hearts, and own the greatness that is inside of them. I recently found a passion in offering hope and healing to other families who have lost a child, just like we did. Too many women stay suffering in silence, and I believe it is through our human-connection and sharing our stories of loss that offers hope and healing to the broken hearted.